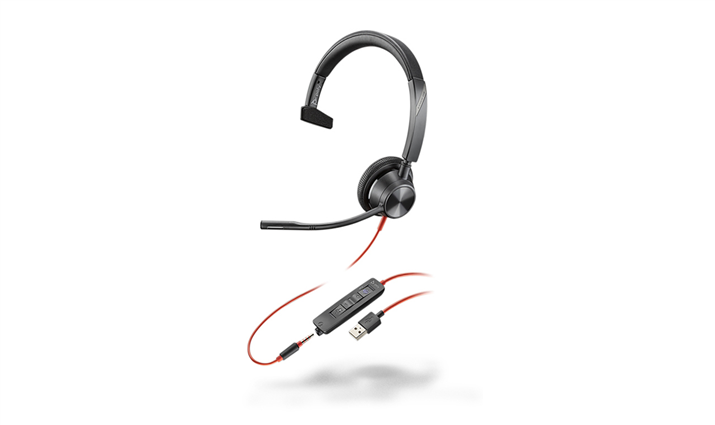 Blackwire 3315-M USB C
Poly
Built for style with Poly signature audio quality, comfort and reliability. Priced for enterprise deployment. Our Blackwire 3300 Series delivers high value for its class. We set out to create something users want to wear. The design is modern and stylish. It's intuitive and simple to use.
Overview
Style, comfort, and audio quality
The great appeal of the Blackwire 3300 Series is apparent at first sight: it has a sleek and modern design. Workers want to wear it so your investment pays off. Not only that, it sounds as good as it looks, with the high-quality audio you've come to expect from Poly.
Corded simplicity and reliability
Workers instinctively know how to use Blackwire 3300 Series. It's UC corded for plug-n-play simplicity. With its robust design these headsets offer Poly reliability. As an added bonus, Blackwire 3315-M & 3325-M models include leatherette ear cushions, a travel pouch, and a 3.5 mm connector for mobile or tablet use.
Powering superior Microsoft Teams experiences
Instantly launch Microsoft Teams with a dedicated button for the quickest communications. Users benefit from the known quality experience of Poly UC headsets, the perfect communications solution for easy Microsoft Teams collaboration, conferencing and notifications.
Tech specs