21:9 UltraWide Monitors
Explore all you have ever wanted in a monitor with LG's 21:9 Ultrawide. featuring a wider viewing space experience suitable for both work and gaming.
29WK600-W (29″ 21:9 UltraWide™ Full HD IPS Monitor)
Key Features
29" 21:9 WFHD (2560 x 1080) IPS Display
HDR 10
sRGB 99%
AMD FreeSync™ Technology
3-Side Virtually Borderless Design
Tilt Adjustable Stand
38WK95C-W (38″ Class 21:9 UltraWide® WQHD+ IPS Curved LED Monitor (37.5″ Diagonal))
Key Features
38″ 21:9 WQHD+ (3840×1600) IPS Display
HDR 10
sRGB 99%
USB Type-C
3-Side Borderless Design
Tilt / Height Adjustable Stand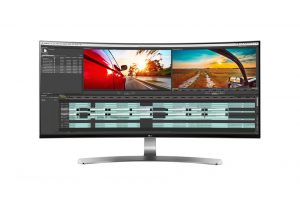 34UC98-W (34″ Curved 21:9 UltraWide™ IPS Display)
Key Features
34″ 21:9 Curved WQHD IPS Display
sRGB Over 99%
Thunderbolt 2.0 (x 2)
Screen Split 2.0 (PIP Mode)
USB 3.0 Quick Charge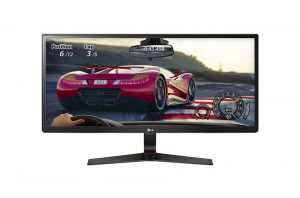 29UM69G-B (29″ Class 21:9 Ultrawide™ Full HD IPS Gaming Monitor (29″ Diagonal))
Key Features
21:9 UltraWide™ Monitors
1ms Motion Blur Reduction
AMD FreeSync™ Technology
DAS Mode
Black Stabilizer
Game Mode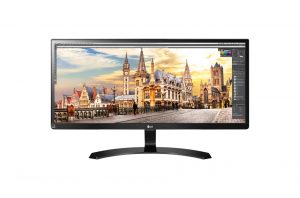 29UM59A-P (29″ UltraWide™ IPS Monitor)
Key Features
21:9 Full HD Workstation for Contents Creator
IPS Display Professional-Grade Color Capability
Versatile & Perform with OnScreen Control 2.0
Versatility and Performance with Screen Split
Professional-Grade Color With Reader Mode
Professional-Grade Color With Flicker Safe
Contact Us
4K Monitors
Boasting stunning 4K resolution for the finest clarity and detail, LG's Digital Cinema 4K and UHD 4K monitors offer immersive viewing, natural-looking images, a richer, wider color range, high-quality sound and more.

27MD5KA-B (27″ UltraFine™ 5K IPS Monitor)
Key Features
5K (5120 x 2880) IPS Display
218 Pixel Per Inch
P3 99% Color Spectrum
Thunderbolt™3
Built-In Camera & Speaker
32UD59-B
32″ 16:9 IPS 4K Monitor
Key Features
32" UHD 4K (3840×2160) Display
DCI-P3 95% / Color Calibrated
4K@60Hz, HDCP2.2 Supported HDMIx2 & DisplayPort
AMD FreeSync™ Technology
Height & Tilt Adjustable
OnScreen Control

27UK600-W (27″ Class 4K UHD IPS LED Monitor with HDR 10 (27″ Diagonal))
Key Features
27 Inch 4K UHD IPS Monitor
HDR 10
sRGB 99% Color Gamut
AMD FreeSync™ Technology
3-Side Virtually Borderless Display

27UD88-W (27" 16:9 IPS 4K Monitor)
Key Features
4K UHD (3840 x 2160) IPS Monitor
sRGB over 99%
USB Type-C
On-Screen Control with Screen Split 2.0
FreeSync
Game Mode & Black Stabilizer

27UD58-B (27" IPS 4K Monitor)
Key Features
Realistic Gaming Experience
Clear, Live Gaming Scenes with FreeSync
High-End Gaming Features
Optimized Game Settings
Edit Perfect Visual
User-friendly, Easy On Screen Control

43UD79-B (43″ Class 4K UHD IPS LED Monitor (42.5″ Diagonal))
Key Features
4K UHD (3840 x 2160) IPS
HDCP 2.2 Compatible
USB Type C™
4x HDMI Inputs
On Screen Control
Factory Calibrated
Contact Us