As a global technology leader, Epson creates and delivers technology solutions for businesses and consumers, from inkjet printers and digital printing systems to 3LCD projectors, smart glasses, sensing systems and industrial robots. The company is focused on driving innovations and exceeding customer expectations in inkjet, visual communications, wearables and robotics.
Printers for Work
Epson has the best printers for your business requirements regardless documents, photos, receipts, large-formats, labels, or even apparels.
Epson WorkForce Enterprise WF-C17590 
Our massive investment in revolutionary technologies enables us to pay attention to every minute detail. PrecisionCore™, our next generation, high-density printhead, takes a great leap forward in enterprise printing. Epson WorkForce Enterprise WF-C17590 has arrived, giving you exactly what you need: superior quality, excellent connectivity and prints at lightning fast speed.
4-in-1 Network MFP: Print | Copy | Scan | Fax
Ink: DURABriteTM Pro pigment ink cartridges
ISO Print Speed: 75 ISO ppm (black/colour) simplex/duplex
Epson WorkForce Pro WF-C5290 
Enjoy low-cost, reliable printing with Epson WorkForce Pro WF-C5290 business printer. Delivering fast print speeds of up to 24ipm with a first page-out time of just 4.8 seconds, it is built to handle the most demanding print jobs. With a range of printing and connectivity features, this printer is the ideal solution for small workgroups that require hassle-free, low-maintenance and productive-boosting printing.
High yield ink packs
High-speed auto-duplex printing
USB, Ethernet, Wi-Fi, Wi-Fi Direct and NFC
Epson Connect
Energy saving
Epson WorkForce WF-100 
Introducing the Epson WorkForce WF-100, a lightweight portable inkjet printer designed for professionals on the go. Battery-operated with integrated wireless capabilities such as Wi-Fi Direct and Epson Connect, you can have quality colour printouts anytime, anywhere.
Print speed up to 14 ppm
Epson Connect
1.44 Colour LCD Panel
Wi-Fi and Wi-Fi Direct connectivity
Built-in battery
Epson WorkForce WF-7711
Change the way you print A3+ business documents with the Epson WorkForce WF-7711 printer. Designed for convenience, this smart printer is equipped with a suite of connectivity features, from USB and Ethernet to Wi-Fi Direct and NFC. With PrecisionCore
TM
 technology, fast printing speed consistently delivers success in every detail.
Print speeds up to 18ipm for black and 10ipm for colour
USB, Ethernet, Wi-Fi, Wi-Fi Direct and NFC
Duplex printing up to A3 size
Epson DURABriteTM Ultra ink
4.3" Colour LCD Touch Panel
Print, Scan, Copy Fax with ADF
Epson EcoTank L3150
Save more with Epson's economical and multifunctional printing solutions for business—the EcoTank L3150—built to bring down costs, and bring up productivity. The integrated ink tank enables spill-free, error-free refilling with individual bottles that have designated nozzles. Other features include borderless 4R printing and an ultra-high yield of 7,500 coloured and 4,500 black-and-white pages. The EcoTank L3150 also delivers the convenience of wireless connectivity, allowing direct printing from smart devices.
Compact integrated tank design
High yield ink bottles
Spill-free, error-free refilling
Wi-Fi, Wi-Fi Direct
Epson Connect (Epson iPrint, Epson Email Print and Remote Print Driver)
Borderless printing up to 4R
Epson L120 Printer 


The Epson L120 ink tank system printer brings speedy performance with low running costs to all your personal and work projects.
High-yield ink bottles
Print speed up to 8.5ipm for black-and-white and 4.5ipm for color
Compact Size
Warranty of 2 Years or 20,000 Pages, whichever comes first
Epson M1100 Printer
Efficiency meets economy with the EcoTank monochrome M1100 printer. Look forward to lower business costs with bottles that provide an ultra-high page yield of up to 6,000 pages each. Simplify processes with the integrated ink tank that enables spill – and error-free ink refilling, and enjoy laser-quality text that is smudge-proof and water-resistant with the pigment ink.
Compact integrated tank design
High-yield pigment ink bottle
Spill-free, error-free refilling
Print speed up to 32ppm (15ipm)
4 years warranty
Epson AcuLaser C9300N
The Epson AcuLaser™ C9300N breaks new ground with its class-leading 1200dpi standard resolution for A3 colour laser printing. Together with its fast speed and high reliability, it packs superior performance in a cost efficient design that perfectly complements the needs of demanding workgroups.
1200 x 1200 dpi
Speed: Up to 30ppm
First page out in 8.3 sec or less (mono A4), 9.9 sec (colour A4)
Quality prints with new Epson Technologies
New print job management features
 Epson WorkForce AL-M320DN 
The Workforce AL-M320DN delivers absolute performance and reliability despite their compact size. Equipped with network printing capabilities and blazing fast performance to support ultra-high volume printing, these printers are built for the most demanding office environments. Further boost productivity with the free fleet management software, Epson Device Admin, to organise and monitor printers remotely.
1200 x 1200 dpi
Print speed up to 35ppm
Auto-Duplex
Ethernet & Epson iPrint
2 optional paper cassette tray
Epson WorkForce AL-M8100DN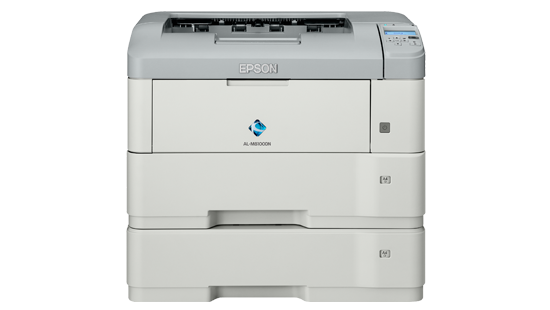 Unleash remarkable efficiency to your workflow. Powered by a 600Mhz dual core processor, the WorkForce AL-8100DN delivers quality A3 and A4 prints with swift speeds of up to 40ppm and is packed with 1GB RAM for faster processing of multiple print jobs.
1200 x 1200 dpi
Print speed up to 40 ppm
Epson iPrint
Ethernet
4 optional cassette trays
Epson TM-H6000IV 
The Epson multifunction POS printer TM-H6000IV, features everything retailers need from fast receipt printing and check processing to best-in-class reliability.
Thermal & Dot Output
Speed: Up to 300mm/sec
Check printing
Bi-directional printing
Supports slip printing, validation and endorsement print
Epson TM-T88V-i 
Create a world of possibilities with TM-T88V-i Intelligent Solution. Equipped with cloud and web-capabilities, you'll have access to a variety of intelligent functions delivered by a compact, space-saving printer that fits easily into your business.
Printing speed of up to 300mm/second
20 million lines for printer mechanism
Up to 2 million for auto-cutter
LAN, Serial, USB 2.0 (Type A) x 4
Control peripherals easily
Epson TM-T70II 




The Epson's TM-T70II is the smallest in class receipt printer with a full frontal operation.
Print method: Thermal line printing
Width: 79 ± 0.5 mm
Print Speed: Up to 250 mm/ sec
Auto-cutter feature
Epson L1800 A3 Photo Ink Tank Printer
In creating the next wave of printing innovation, Epson introduces the worlds first truly affordable 6-colour A3+ original ink tank system printer.
Yield of up to 1,500 4R photos
Print speed up to 15ppm
High-yield ink bottles
1-year warranty or 9,000 prints
Epson L850 Printer 
Imaging enthusiasts and professionals can look forward to the 6-colour ink tank system, presenting vibrant borderless prints and unrivalled performance at a remarkably low cost through this 3-in-1 photo printer.
High-yield ink bottles
2.7 colour LCD screen
Direct printing via memory card slot, USB port and PictBridge
CD/DVD printing
Warranty of 1 year or 3,000 photo prints, whichever comes first
Epson L805 Printer 



The L805s integrated Wi-Fi support and expanded colour gamut of 6 inks brings you ease of printing from your mobile devices over a wireless network so you can print low-cost, lab-quality photos at your convenience.
Yield of Up to 1,800 4R photos
Lowest Printing Costs
Wi-Fi & Epson iPrint
CD/DVD Printing Capability
1 year or 3,000 prints warranty
Epson EB-2055
Leave the lights on and take control whether in the meeting room or classroom. Epson's EB-2055 projector is engineered to shine outstandingly even in well-lit environments to enrich your presentation experience. Your brilliant presentations are made even better and more convenient with the new gesture-control function that allows you to navigate between your slides without the use of a peripheral device.
XGA Resolution
White and Colour Light Output at 5,000 lumens
Gesture Presenter
Multi-PC Projection
2 x HDMI
Split Screen
Epson EB-2142W
Enjoy success and unparalleled performance with Epson business projectors. Fully maximise your office space and experience a variety of connectivity options for your ultimate convenience. Along with long lamp-life and maintenance cycles, potential for saving costs and improving energy efficiency is now made possible for you. Every component is skillfully innovated with attention to detail in mind, including the integrated 3LCD technology that will provide you with stunning colour brightness for quality images.
White and Colour Brightness at 4,200lm
WXGA Resolution
12000 hours lamp life in eco-mode
MHL-enabled
Multi-PC Projection
Horizontal Keystone Slider
Miracast®
Epson EB-L500W 
The compact, affordable EB-L500W laser projector delivers powerful performance for education and business applications. Get bright, vivid images with 5,000 lumens colour/white brightness. This wireless projector also offers WXGA resolution and Full HD support. Featuring breakthrough laser technology, it delivers a laser light source of up to 20,000 hours. And, it offers virtually maintenance-free operation for the life of the optical engine. Plus, it features a Dynamic contrast ratio of up to 2,500,000:1. It also includes wireless networking with enterprise-level security, and advanced installation features.
5,000 lumens colour/white brightness 
Colourful WXGA; up to 2,500,000:1 Dynamic contrast ratio
Laser light source of up to 20,000 hours
Virtually maintenance-free for optical engine life
ACCENT LIGHTING LASER PROJECTORS
Epson LightScene EV-105


Create stunning visual displays and immersive environments with the LightScene EV-105, the cutting-edge digital signage solution from Epson. A convergence of lighting and display technology, LightScene laser projectors captivate audiences by simultaneously illuminating and projecting on virtually any surface or material, unleashing dynamic, experiential content for digital art, commercial signage and décor applications. Designed to blend in discreetly to any setting — from retail, hospitality and event spaces to showrooms and museums — LightScene EV-105 offers a sleek, black spotlight design, with an array of configuration, mounting and programming options.
Laser projector for digital art and signage
Seamlessly blends into virtually any environment
Up to 20,000 hours of virtually maintenance-free operation
360-degree mounting: floors, walls or ceilings
Remote management and control tools
Best New Award Overall
Epson EB-1785W 
The Epson EB-1785W packs superior imaging quality along with a suite of connectivity and usability features into a body weighing only 1.83kg and 44mm slim. Wirelessly connect your smart devices to the projector via Wi-Fi, Miracast, iProjection application or NFC technology. The EB-1785W comes with Gesture Presenter technology, which allows you to transit between slides without a clicker. Lastly, with Epson's 3LCD technology that delivers up to 3 times wider colour gamut and brightness, you can astound audiences anywhere you go.
White Light Output 3,200 lumens, Colour Light Output 3,200 lumens
WXGA Resolution
Real-Time Auto Keystone Correction
Split Screen Projection
Hassle-Free Presentation with USB 3-in-1 Display Feature and Epson iProjection
Epson EB-536Wi 
Project large screen sizes even at close range and make your presentations larger-than-life with Epson EB-536Wi projector.
White and Colour Brightness at 3,400lm
WXGA Resolution
Multi-PC projection
HDMI Connectivity
Pen Interactivity
Epson 595Wi/585Wi/575Wi 
With the finger-touch interactive function and PC-free annotation, you can easily transform any surface into an interactive environment so everyone can throw their ideas on the table.
WXGA Resolution
White and Colour Brightness at 3,300lm
Multi-PC projection
HDMI Connectivity x2
Epson EB-L1405UNL 
The Epson EB-L1405U projector is designed to deliver unyielding laser performance, from any position to most surfaces, up to 20,000 long lasting hours maintenance-free.
White and Colour Brightness at 8,000lm
WUXGA (1920 x 1200)
Edge-blending to create large panoramic images
Curve and corner wall projection
HDBaseT
Epson EB-G7400UNL 
Epson high brightness EB-G7400U projector presents a new perspective on clarity, durability, and versatility. With the advanced C2Fine™ and 4K Enhancement Technology, projections are brought to life with vibrant colours in extreme resolution and vividness. Overcome the limitations of space constraints and project large and uncompromised images through the projector's astoundingly short throw ratio of 0.35*.
* With optional ELPLX01 zero offset ultra-short throw lens.
High Brightness
Beyond Full HD Resolution
Powered Lens
Portrait Projection
Flexible Installation
Edge Blending
Point Correction
Epson EB-Z10000U 
Discover a powerful way to impress your audience the EB-Z10000U high brightness business projector gives you stunning, high-definition images with its 3LCD technology.
White and Colour Brightness at 10,000 lm
WUXGA resolution
High Reliability and Durability
Suitable for 24/7 usage
Flexible projection angles and installations
Document Camera ELPDC21 


Cut through the hassle, and get straight to your presentation. Epsons series of document cameras not only captures details with Full HD resolution, its versatile connectivity also gives you great functionality.
Pixels: 2MP (1920 x 1080 pixels)
Camera Sensor: 1/2.7 inch CMOS Sensor
Resolution: Up to Full HD (1080p)
Zoom: 10x Digital Zoom, 12x Optical Zoom
Weight: Approx 3.0kg
Get Quotation