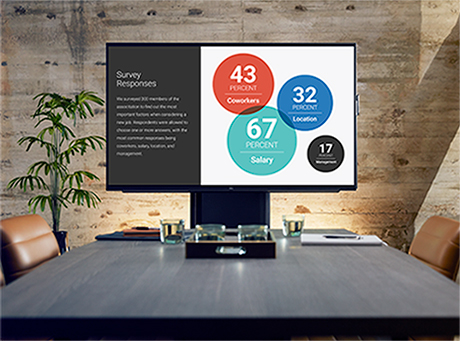 Transform your meeting space
Dell, the world's number one monitor brand, has the tools and technology you need to facilitate teamwork. With our open standards approach and wide variety of displays ranging from 55" to 86", it's easy to find and customize a solution that keeps your team engaged and lets your business thrive.
Maximize your team's productivity
Make meetings more efficient with our collaboration-enhancing features and easy connectivity.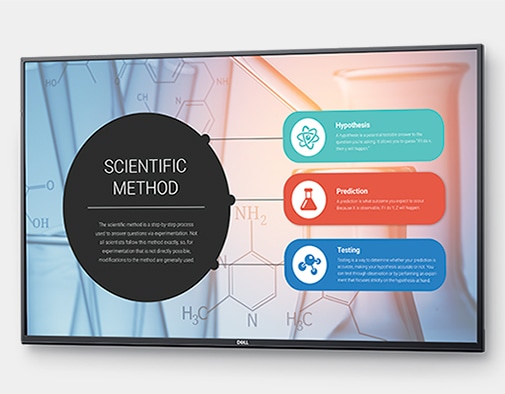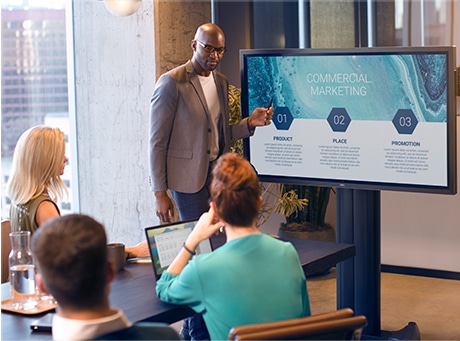 Next-level teamwork
More ways to interact:
 Group collaboration is more seamless and intuitive than ever with our interactive monitors
*
. And, a simple touch of your hand or swipe of a stylus allows you to experience real-time interaction with virtually zero lag.
Collaboration solutions: Annotate, collaborate and whiteboard with included software like DisplayNote and FlatFrog*.

Collaboration for all: Dell Screen Drop feature* lets you lower the displayed image so that it's easy to reach, with touch sensors on either side of the display for three additional height settings to fit people working from varying heights.
Captivate your audience
Make the most of your meeting: With a wide variety of connectivity options, you can quickly connect to the display and seamlessly switch between presenters, allowing your audience to enjoy a smooth and continuous presentation.
Present crisply and clearly: Monitor scaling technology allows you to capture your audience's attention with exceptionally clear text and vivid visuals.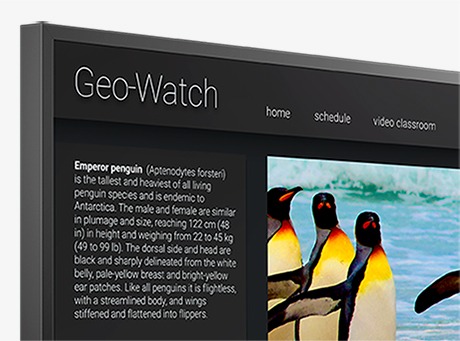 Dell Large Format Monitors
Flexible IT solutions
A variety of customization, deployment and management options make Dell Large Format Monitors easy to manage.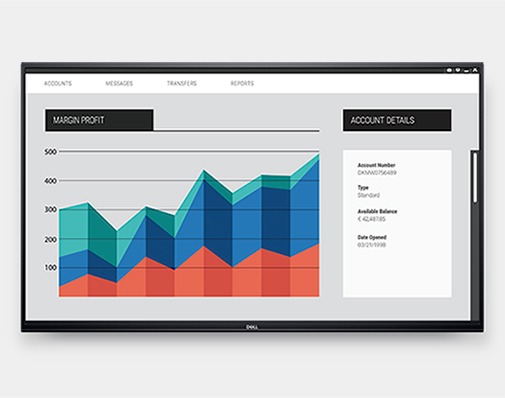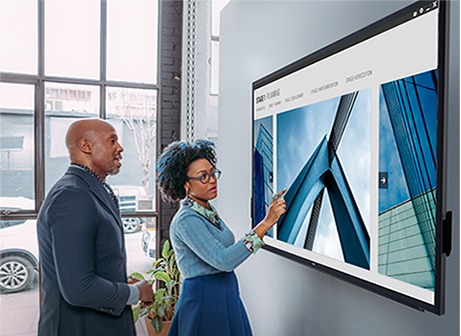 Adapts to business needs. Present and future.
Solutions that work with you: Dell Large Format Monitors work with a variety of hardware and software, so you can continue using the technology you're comfortable with or choose to use some of ours. This makes your new monitor inherently easy to deploy, maintain and use. It can also be loaded with your preferred corporate image, so that it adheres to your security and service standards.
Customized to your needs: Your Large Format Monitor will fit your business needs as they evolve. Select the technology you need without paying for unnecessary features and, with its modular capabilities, you can even scale up or down as your needs change.
Easy to deploy. Simple to manage.
A smooth deployment: With a few painless steps, and a couple of extra hands, it's simple to install a Dell Large Format Monitor to a solid wall. Our displays are VESA compatible, so you can pick the mounting solution that best fits your space, whether that's a mobile cart, stand or wall mount.
Manage your meeting spaces: With RS232 and RJ45* interfaces, you can use remote management tools to maintain and control your Large Format Monitors with a network control system.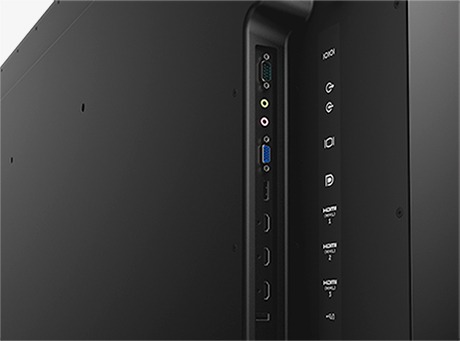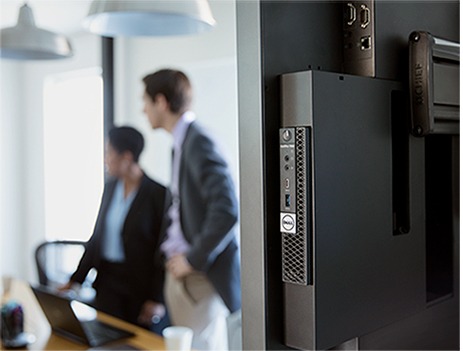 Ultimate management
Seamless integration for easy access: Create an all-in-one solution with the optional Dell OptiPlex Micro PC. It seamlessly integrates into the display* without the need for a separate power cord, simplifying access to WiFi, annotation and meeting room management applications.
Easy to upgrade: Thanks to it's modular design, the optional Dell OptiPlex Micro PC can be effortlessly upgraded, or replaced.
Solutions you can count on
Our low maintenance monitors and reliable service solutions are here to support you through every presentation.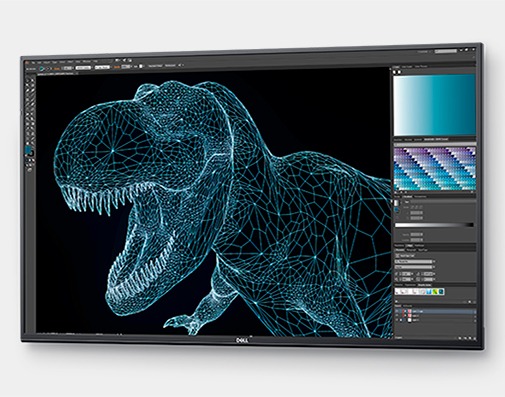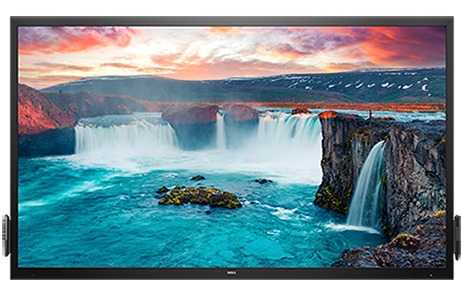 Dependable reliability
Peace of mind comes standard:
 Your Large Format Monitor comes with a 3-year Advanced Exchange Service
*
 so that if a replacement becomes necessary, it will be shipped to you the next business day during the Limited Hardware Warranty. And, if you want longer-term coverage, you can extend the Limited Hardware Warranty
*
 up to 5-years for additional support.
Low maintenance. Simple manageability: 
Save your staff time and your company money with these reliable, user-friendly monitors. With no hidden costs, annual maintenance or licensing fees, Dell Large Format Monitors can decrease both trouble tickets and training time for your team.
Resolution
OptiPlex Micro Mounting via
Touch/Non-Touch
Image Size
Panel Type
Surface
Mount
Connectivity
4K
Optional bracket
Non-touch
54.6 in
Vertical Alignment Glass
Anti-glare
Optional wall mount
2x HDMI
1x DisplayPort
1x VGA
4x USB
1x Audio-In/-Out
1x RS232
1x RJ45
4K
PC slot
20 points of touch
54.6 in
IPS Glass
Anti-glare, Anti-smudge
Optional wall mount
3x HDMI
1x DisplayPort
1x VGA
7x USB
1x Audio-In/-Out
1x RS232
1x RJ45
Full HD
Optional bracket
10 points of touch
69.5 in
Vertical Alignment Glass
Anti-glare, Anti-smudge
Wall mount included
3x HDMI
1x DisplayPort
1x VGA
4x USB
1x Audio-In/-Out
1x RS232
1x RJ45
Resolution
OptiPlex Micro Mounting via
Touch/Non-Touch
Image Size
Panel Type
Surface
Mount
Connectivity
4K
PC slot
20 points of touch
75 in
IPS Glass
Anti-glare, Anti-smudge
Optional wall mount
3x HDMI
1x DisplayPort
1x VGA
4x USB
1x Audio-In/-Out
1x RS232
1x RJ45
4K
PC slot
20 points of touch
85.6 in
IPS Glass
Anti-glare, Anti-smudge
Optional wall mount
4x HDMI
1x DisplayPort
1x VGA
7x USB
1x Audio-In/-Out
1x RS232
1x RJ45